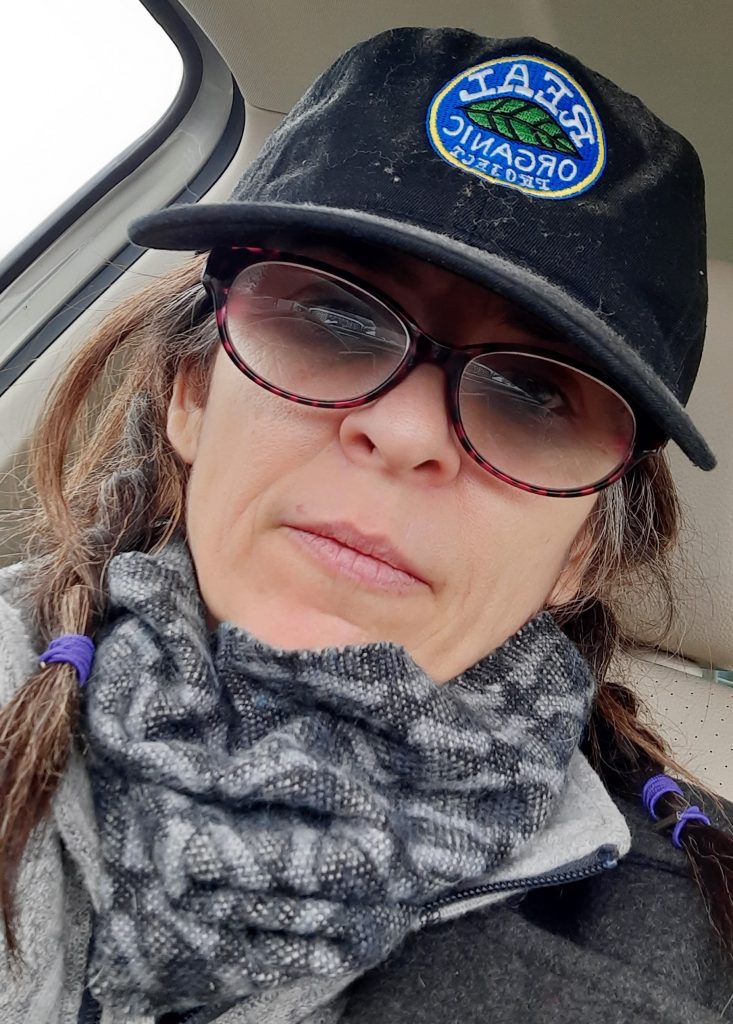 By Hippo (a hippopotamus) and Al (a bird)
We met Sonja at the Brookfield Farmers Market. She is one of those humans who is easy to talk with so that's what we did – we talked – a lot. We found that we shared similar ideas and became friends. We met her children. We learned about seeds and compost. We bought lots of her beautiful food. She has granted an interview to Hippo and Al and here it is:
H&A: Tell us a little about your background and what you are currently doing.
SS: I hold a BA in Conservation Biology with an emphasis in Botany from UW-Madison , with continuing education in Chemistry from Harper College. I also have training from Michael Fields Agricultural Institute in organic agriculture and have been running a certified organic vegetable operation while raising my children for the last 15 years (certified since 2012).
H&A: How did you first become interested in seeds?
SS: As a student at Michael Fields. One student was doing a project in seed saving. Mine was writing garden curriculum and establishing an educational garden for children under a grant program. I ended up learning about seed saving from the other student so that I might write a course for children to learn how. After I discovered how to save seeds, I couldn't stop!
H&A: How are your seeds and plants different from what would be found in a typical garden store?
SS: Plants were not intended to be isolated. Their genomic breeding is generally modulated by temporal spacing (where certain varieties produce at certain times). But nature was also designed to cross-pollinate . . .thus sharing traits, creating more viable and stable offspring. Basic biodiversity principles state that biological diversity is stability. Current practices do our vegetables a disservice by isolating varieties. At Sowl Seeds we do not isolate varieties, we allow insects and the weather to do the job God intended. We collect our seeds in small batches with lots of love and hope for a bright future.
H&A: Your seeds are open-pollinated. Could you explain what this is and why it is important?
SS: Open pollinated means they can produce viable offspring and can reproduce by natural means without human assistance. This is best understood in animals. A goose and a duck are closely related and can produce offspring that will be a mix of the two breeds, but generally speaking they are too different to produce offspring that have the further capacity to reproduce (this generally happens in captivity). We call these offspring "mules." If a plant is hybridized–a cross of two unrelated species that may not naturally reproduce, it can still be open-pollinated as long as the parental offspring are not too genetically different. Open-pollination is important because it allows the natural reproductive order of nature to take place.
H&A: What are patented seeds? Can they be saved and used to grow another plant?
SS: A patented seed is one whose genetic make-up is man-made and is owned by a company. For example: Monsanto's Round-Up ready corn. It is possible to save patented seeds, but it is illegal. There have also been some controversial attempts at breeding a "terminator gene" into GMO seeds so that they cannot be saved. But as far as I know this has not been pursued as it has the potential to endanger our food supply.
H&A: What is the best way to buy your seeds?
SS: Currently my seeds are available on Etsy. My company's name is Sowl Seeds. https://www.etsy.com/shop/SowlSeeds?ref=seller-platform-mcnav If you are local I can be contacted directly via email at sowlseeds@gmail.com.
H&A: You also sell seedlings, produce and wild foods. Where can they be purchased?
SS: Yes! I do! Seedlings can be purchased at our farm at 2609 County Rd. O South Delavan, starting with lettuces and cool weather crop seedlings in April, all the way through mid-June. The farming end of the business goes by Peach Tree Organic Gardens. We can be found at the Brookfield Farmer's Market on Calhoun Rd on Saturday mornings starting in May; The Whitewater Farmer's Market on Tuesday nights by the Trail Depot, also starting in May; The Williams Bay Farmer's Market on Friday mornings starting May 21st; as well as Ace Hardware's parking lot in Delavan starting some time in May.
H&A: Is there anything else you would like us to know?
SS: Yes! That I want you all to be blessed with good, healthy food!
H&A: Thank you, Sonja!