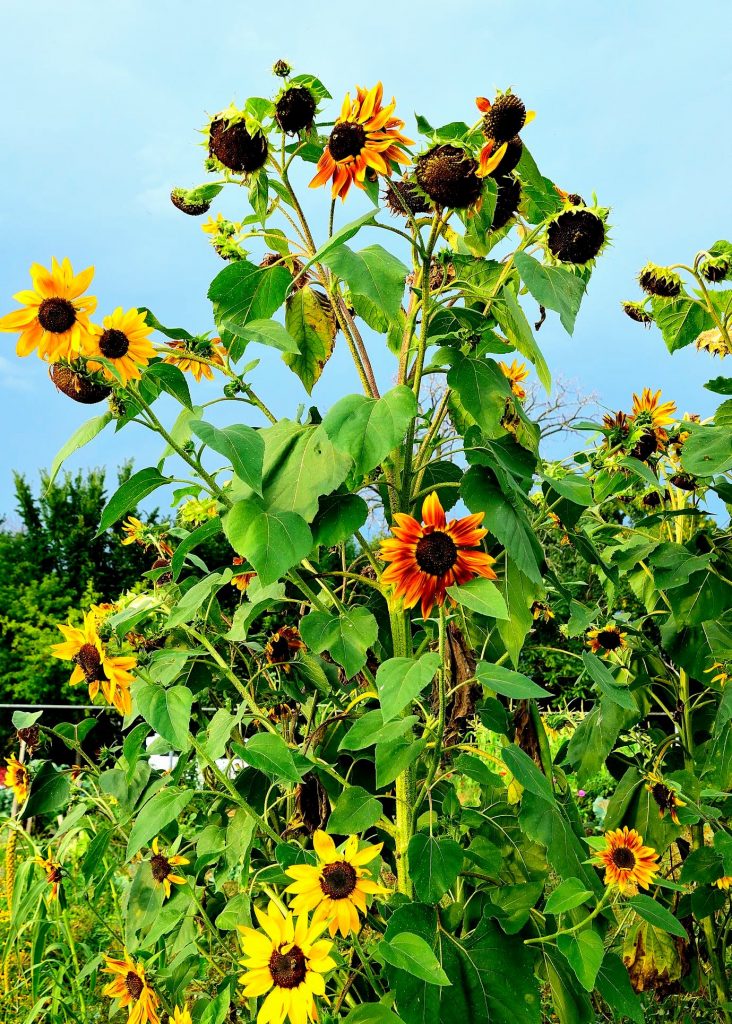 Written by Hippo (a hippopotamus) and Al (a bird)
The red sun dropped out of sight as Al and I walked out the gate of Alice's Garden. "That was a beautiful evening," I said with a sigh.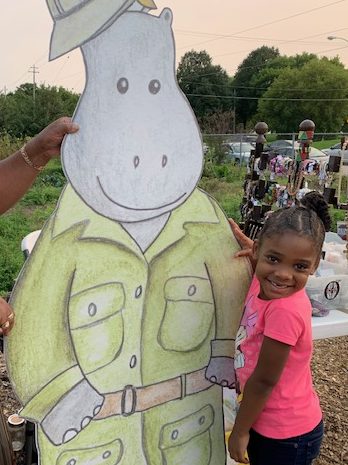 This was the Tuesday evening farmers' market/neighborhood get-together/celebration of family and friends, good food and hope for the future – all in the arms of a garden overflowing with countless herbs, tomatoes, squash, kale, beans, carrots, corn, onions . . . "and sunflowers," said Al. "I'll always remember the sunflowers."
A young girl selling handmade jewelry noticed us first. "Cute hippo," I heard her say shyly. We introduced ourselves.
Then we heard someone shout, "Hippo and Al are here!"
Do you remember the story we wrote – "Dinner and Dancing at the Tricklebee Café?" Well, it turned out to be one of our dance partners from that evening. We stopped to chat and learned that The Tricklebee Café is renovating and expanding to double the size. In the meantime, they are selling out every day with curbside pickup.
"What great news for the neighborhood!" squawked Al.
Next, we spotted Martice from The Scales Family Farm. It seemed so long ago since we had visited Martice and Amy Scales at their plot in The Fondy Farm and we still hadn't found the time to adequately share their story. We swallowed our guilt and headed to their table to buy some pickles – we had never eaten pickles before – and to meet Mason and Maxwell, the little ones in the family who pitch in with picking bugs off the plants and taste-testing tomatoes. Mason showed us his dinosaur egg. I thought dinosaurs were extinct, but I know what I saw.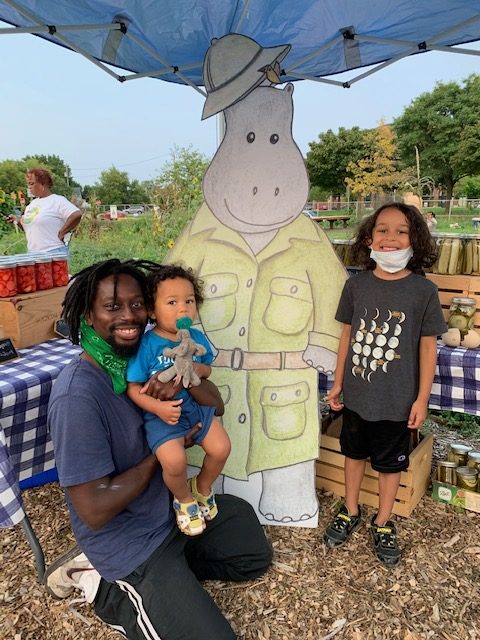 We also talked with Mahdi, a human with a great heart and a passion for helping others. On this day he was selling alkaline water in stainless steel bottles – plastic water bottles are not allowed in the the garden. He works every day to help humans lead healthy lives through nutrition. Check out his facebook.
"That's not all," said Al. "He set up several mobile showers/clinics for the homeless."
Remember the hippo hoof cream that helped heal my cracked hooves? Well, it's not just for hippos. You can get that too, along with other wonderful herbally healing potions, at this market from Venice Williams, the Executive Director of the place. Plus lots more, but we certainly don't have the time to tell you everything. You need to get yourself up and come on by.
The entire atmosphere at Alice's Garden was peaceful. Families ate their dinners and chatted at picnic tables, children ran around while grown-ups tended their gardens or practiced yoga. The lights of the day gradually dimmed as insects tuned up for the nightly concert.
"It was a beautiful evening," said Al, "but I wish you hadn't eaten up the entire jar of dilly beans from the Scales Family Farm."
I promised Al I would buy some more next week. Please join us on Tuesday in the garden! And spread the word!
Market Hours: Every Tuesday and Thursday, 4pm to 7pm, weather permitting.

www.Alicesgardenmke.com
https://www.facebook.com/Alices-Garden-Farmers-Market-383382278500540
Address: 2136 N 21st St, Milwaukee, WI 53205
Phone: 414-687-0122