Written By: Hippo (a Hippopotamus) with help from Al (a bird)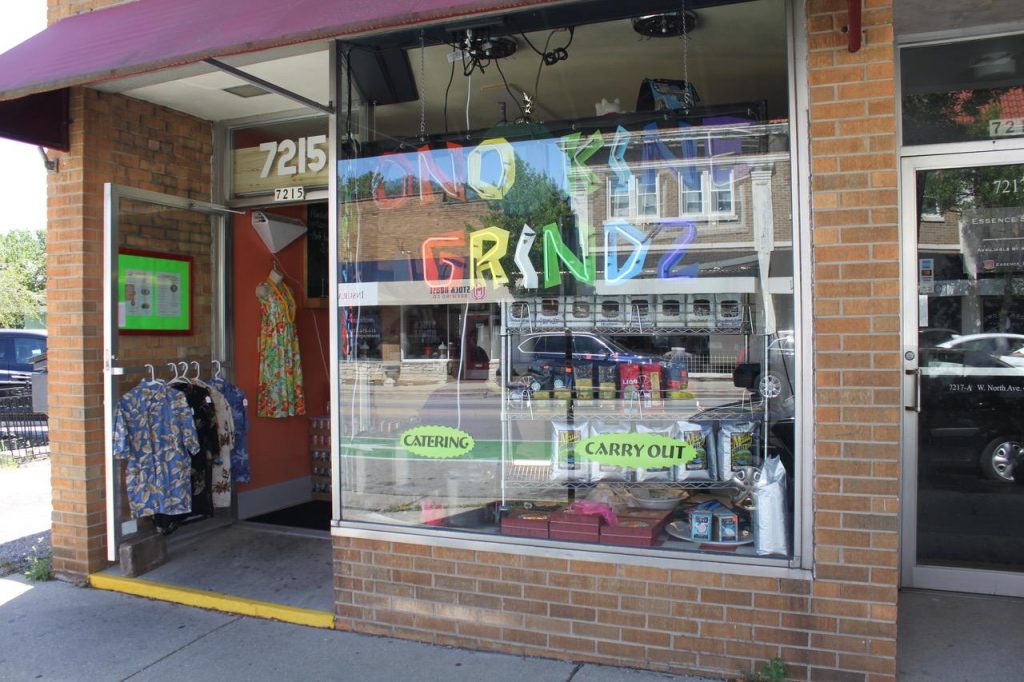 There I stood, in the middle of North Avenue; Milwaukee, Wisconsin, USA; head spinning, ears ringing, heart racing, and Al (under my hat, as usual) pecking on my head while automobiles honked and squealed from all directions, lights flashed, and humans shouted things I had never heard back home on the savanna.
To make a long story short (not my forte) we barely made it to the south side of the street and stumbled backwards through the door of Ono Kine Grindz.
"Come on in," said a man, as friendly as could be. "Sit anywhere you like."
"Hippo," whispered Al, "your costume worked. He thinks you're human."
This was the beginning of our great Hawaiian adventure. Ono Kine Grindz features Hawaiian culture, including books, flowery shirts (unfortunately none big enough for a two-ton hippopotamus like me), and especially food.
The name is taken from pidgin, a beautiful and colorful language spoken by locals. It means "really good food" and conjures the pleasant image of gathering with friends and family to "talk story" (shoot the breeze). This restaurant/market/deli could not be better named.
From manapua (delicious pork thing) to ahi poke' with sesame shoyu (Hawaiian soy sauce) and inamona (made from kukui nut), wacami seaweed salad, choi sum (a green veggie) and lomi-lomi salmon (a fresh tomato and salmon salad), we tasted a variety of Hawaiian and Pacific island specialties. Each one "brok da mout" (they were absolutely delicious).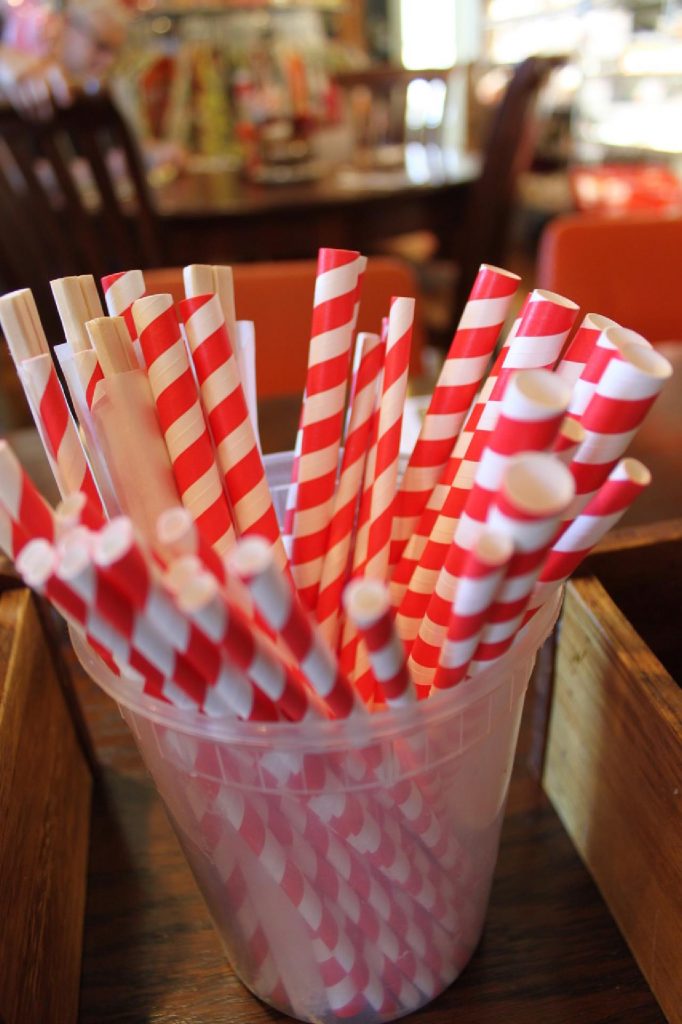 We did "talk story" with owners Guy Roeseler and David Lau. We learned that they care deeply about the health of the oceans which is why they have phased out most plastics. One of the first things we noticed when we walked in was the red and white striped paper straws on the tables.
They found that many of the products currently on the market (corn and other plant-based plastics), though advertised as eco-friendly, are really just as bad as conventional plastics when you consider their entire life cycle. Therefore, they have opted for coconut fiber and cardboard containers for carryout, paper straws, and bamboo chopsticks.
Ono Kine Grindz (OKG) uses a mix of local, naturally-grown, and conventional food. They buy most of their produce from Pete's Fruit Market, a community-supportive grocery which has partnered in creating three urban gardens.
For weddings and other larger catered events where quantities of vegetables are needed and in season, OKG is able to use produce from the local farmers' markets. Eggs and chickens come from the local Yuppie Hill Poultry Farm, and pork is supplied by Kettle Range Meats. It is antibiotic and ractopamine-free, locally raised on forage and allowed to roam outside. https://www.centerforfoodsafety.org/files/ractopamine_factsheet_02211.pdf
One of the questions Al and I ask when we are looking into a restaurant is, "Do you cook with processed vegetable oils?" The usual reaction is a blank stare, so David Lau's response was unexpected. "Oh no, never," he said. "That causes cancer." Al and I learned that, when heated, processed oils such as soy, corn, safflower, canola, and others produce compounds called aldehydes and there is considerable evidence that they may indeed contribute to cancer, dementia, heart disease, and more. (More on the trouble with vegetable oils coming soon). Ono Kine Grindz cooks in butter.
OKG makes their own stocks from scratch which they use as the base of their ono soups. We loved the shrimp/scallop bisque and can't wait to try the traditional Hawaiian Saimin.
Processed Hawaiian foods are available on their shelves. Some menu items may contain small amounts of a processed ingredient, but the main ingredients are fresh and they will happily recommend or modify items to meet just about any preferences or requirements. Vegan, vegetarian, paleo, and gluten-free options are available.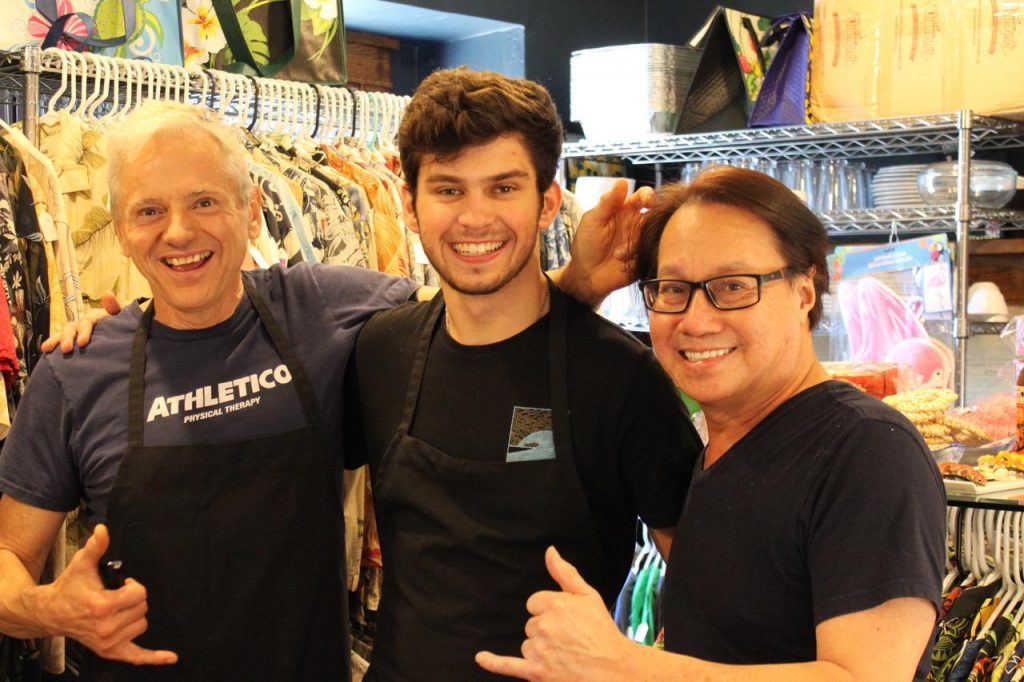 Ono Kine Grindz exemplifies the essence of "Hippo and Al." Though not perfect, Guy and David are moving step by step, drop by drop, in support of a healthy human food system. Their next step is composting. "We do what we can," said Guy, echoing the pidgin philosophy (If can, can. If no can, no can.) "A couple years ago, we couldn't get products (like coconut coir carry-out boxes). Now there is more demand," he explained.
By the time Al and I walked out the door, we were planning our own trip to Hawaii. I could not wait to get a ti leaf hula skirt and dance at a luau. Al wants to meet the Menehune, the small, mischievous people who live deep in the Hawaiian forests.
Please support the good humans at Ono Kine Grindz by stopping by for lunch or ordering carry-out; consider using them for your wedding, office party, or other catered event. And tell them Hippo and Al sent you.