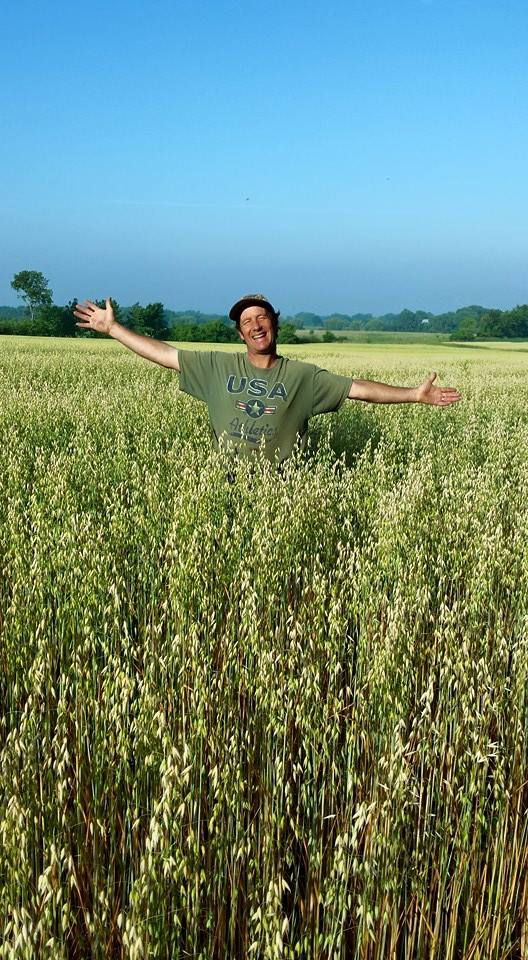 Written by Hippo (a hippopotamus) and Al (a bird)
"Hippo!" exclaimed Al. "Look at this! David and Leslie Meuer won the Leopold Conservation Award for Meuer Farm! Remember Aldo Leopold?"
"How could I forget?" I replied. "He wrote The Sand County Almanac where we learned about the land ethic."
Ethics direct all members of a community to treat one another with respect for the mutual benefit of all. A land ethic expands the definition of "community" to include not only humans, but all of the other parts of the Earth, as well: soils, waters, plants, and animals, or what Leopold called "the land."

In Leopold's vision of a land ethic, the relationships between people and land are intertwined: care for people cannot be separated from care for the land. A land ethic is a moral code of conduct that grows out of these interconnected caring relationships.
If you just look at these photos, you will see that the Meuers hold a deep sense of ethics for the land. This is but a small window to the living things with whom they share the farm.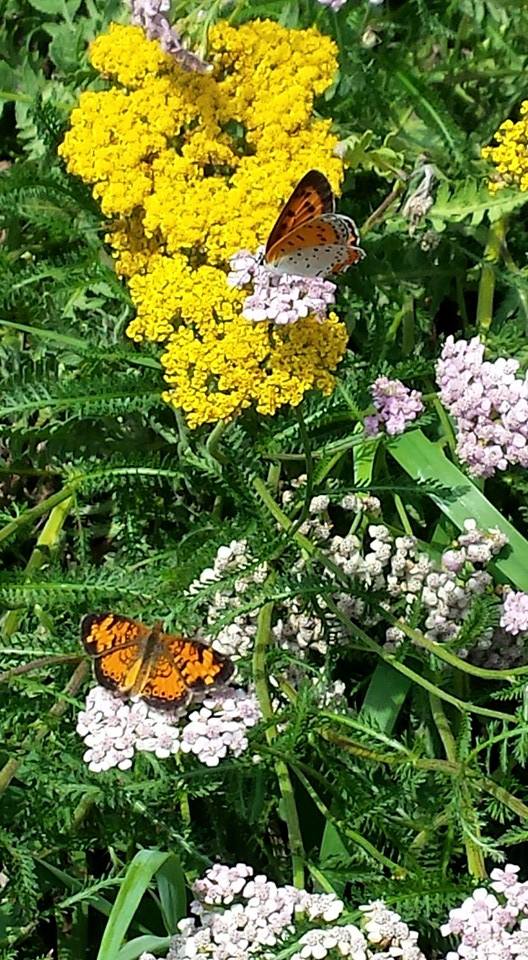 "Included in that diversity are fifty-seven different species of my kind," said Al. "That's indigo bunting, great horned and snowy owls, northern flicker, orchard oriole, and fifty-two more, most of whom I have never even met."
Many farmers fight the land using an arsenal of pesticides and weedkillers, petroleum-based fertilizers, and heavy plowing. All of these practices degrade the soil, water, and diversity of life. Ultimately, they degrade the health of those who eat their food.
The Meuers work with the land to grow grains, including oats, rye, and ancient grains like emmer and einkorn wheat. They use manure and rotate crops that fix nitrogen to maintain fertility. Cover crops, or crops planted to protect and nourish the soil, are used to help the soil hold water, manage erosion, curb pests and weeds, and enhance biodiversity and wildlife in an ecosystem managed by humans. The spiders and birds and frogs and fish also pitch in to keep pests from gaining the upper hand. The Meuers have even set aside a field just for wildlife food.
The grains are stone-milled and bagged right on the farm. They harvest nuts from naturally growing shag bark hickory and 4,200 black walnut trees. And they make maple syrup from the sugar maples. Strawberries, edamame, sweet corn, squash and colorful beans are among their other offerings.
Mother Nature also provides watercress, winter cress, puffball and morel mushrooms, and other morsels of her choosing.
"Don't forget about all the bees that make honey and pollinate the strawberries," said Al.
Cattle graze thirty acres of native pasture with plenty of shade from large trees. Through their munching, hoof action and, of course, their poop, they are keeping the grasses healthy and the soil fertile and productive just as the bison herds of the American prairie once did. Unlike feedlot cattle, these animals are helping to sequester carbon in the soil.
"Just like the zebras, gazelles, antelope, and wildebeest back home on the savanna," said Al
"And guess what, Al? It seems that even bird poop is important. It has carried the seeds for apple trees, gooseberries, wild grapes, black raspberries, chokecherries, and elderberries that now grow on the farm."
"Wow," said Al. "So why does it seem like humans are always trying to get rid of it?"
"It's in our story, Al! Chapter Seven! Don't you remember? I said there could never be too much of a good thing (like hippo poop) and you said that there could – that it has to be in balance. Too much disrupts the functioning of the ecosystem, and when it gets into the water, it feeds an algal overgrowth, leading to oxygen depletion, dead fish and . . ."
"I remember," interrupted Al.
"Anyway," I continued, "that's a good segue into one of my favorite topics – water."
Brothertown Creek flows through Meuer Farm and west to Lake Winnebago. Not only does the creek provide fresh drinking water for the beef herd, but also vital habitat for wildlife. It is alive with insects, fish, frogs, birds, and muskrat. Here's a 17-second video of sucker fish spawning in the creek: https://www.facebook.com/216009771786241/videos/1298409056879635/ The soil along the creek bank is held in place by a barrier of mixed vegetation including trees, shrubs, and other plants which keeps sediment from washing into Lake Winnebago, the largest lake in Wisconsin.
Lake Winnebago has a problem with algal overgrowth. It is caused mostly by petroleum-based fertilizers containing nitrogen and phosphorus flowing into the lake from farms and front lawns within the watershed. This is the result of an overabundance of nutrients, whether from poop or synthetic fertilizer. The Winnebago County Public Health Department recommends using common sense when using the lake. If you "can't see your feet in knee-deep water, if water has an opaque, pea soup-like appearance, or if scum or foam are present," you should probably stay out of the water.
"Gross!" said Al. "Who would go in water that is like pea soup?"
"Meuer Farm is setting an example of another way," I said. "It's exciting to see how much good one farmer can do. When others see that it's possible to make a good living on the farm and also take care of the land – and the water – change is going to happen. I just feel it, Al!"
For over ten years, Leslie and David Meuer have been educating people about the farming and conservation practices at their farm. 25,000 humans visit the farm every year and learn about bees, biology, forestry, rotational grazing, soil and water conservation, and how food is grown on a real working farm. "We enjoy helping people regain their relationship with the land by re-introducing them to the world of agriculture."
Everyone can help bring these changes about by buying foods from responsible farms, like Meuer.
"This seems like a no-brainer to me," said Al. "We've already talked about the harmful methods used to grow and produce food by the Food Giants. Why would anyone buy those products when they can get something much better?"
"And by doing so, they can be part of making the Earth a beautiful and healthy place for all of us to live," I added.
We do all of this on a 150 acre family-owned farm that has been in the Meuer Family since 1969. Farming is our way of life. We enjoy working the land, teaching others about farming and preserving our farmland for future generations.

David and Leslie Meuer

Al and I give our highest recommendation to Meuer Farm. Please stand with us in supporting a food system that works for all life on Earth.
Meuer Farm
N2564 US-151, Chilton, WI 53014
https://www.meuerfarm.com/index.html
Where Can I Buy Their Food?
Meuer Farm offers many varieties of whole grain products, including flours, polenta, hickory nuts, rye, ancient grains, oats and oatmeal, maple syrup, honey, and grass-fed beef at the The Milwaukee Winter Farmers Market. This is every Saturday through March, from 9 – 1, at The Domes.
Starting at the end of May, Meuer Farm will be at the Wauwatosa Farmers Market with all the above products plus lots more, depending on what is in season. They are the only vendor offering local Wisconsin blueberries.
The Country Store is a retail store located right on the farm. It is open from June Through September, but if you just call ahead (920-418-2676), you can pick up local farm food whenever you are in the area. The Meuers live right there on the farm.
Strawberry and sugar snap pea picking is open for customers in June and July. Watch the website for dates and times.
The Meuers will have a booth with all their products at the Wisconsin Garden and Landscaping Expo in Madison, February 7 – 9.
On March 7th and April 4th, Meuer Farm will take part in the Evanston Farmers Market with their usual products plus organic oat straw bales for people wanting to build a straw bale garden.