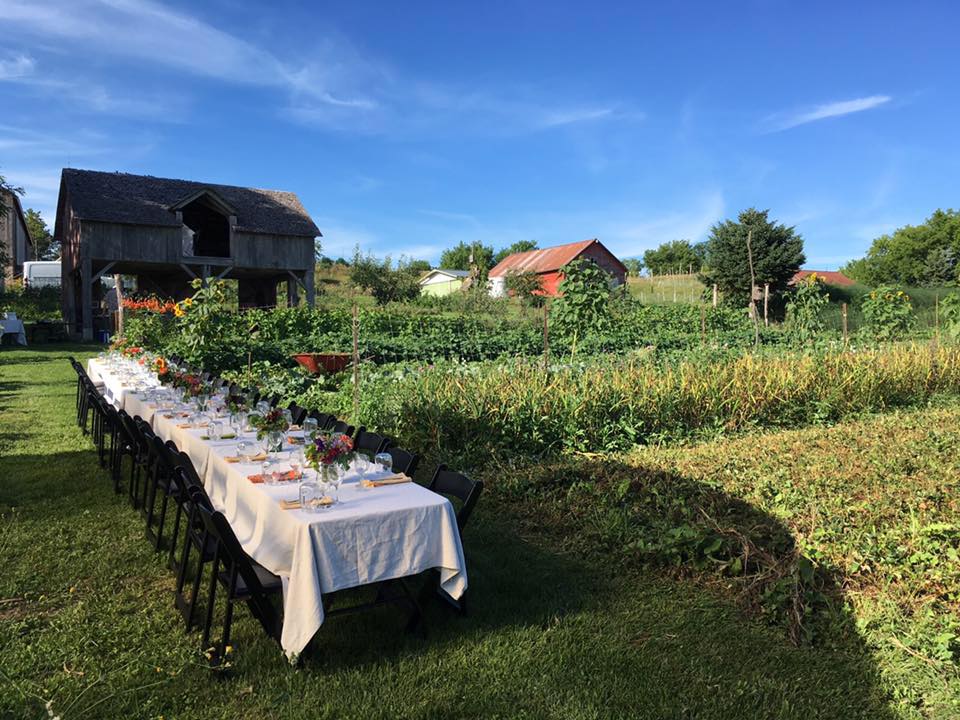 Written by Hippo (a hippopotamus) and Al (a bird)
As the premier farm-to-table restaurant in Milwaukee, a culinary school, a restaurant supported agriculture business, and a home delivery service, Braise is a keystone player in the local food community.
"Have I mentioned, Al, that hippos are a keystone species? We are, in fact, known as the life force of the African rivers. 'The hippo is intimately linked to the fate of whole food webs and to the functioning of entire ecosystems.'"
"You may have mentioned it once or twice," said Al. "Is this article about you or Braise?"
"Al! I'm just trying to draw upon information that our readers may relate to. Keystone species is an important concept. Remember the video of wolves in How Wolves Change Rivers ?
"I loved that!" said Al, "but I still get the shivers when I think of their howling."
"Me too!" I said.
The term "keystone" comes from an actual stone – the topmost stone in an arch that holds everything else in place. Because of the keystone, some of the aqueducts built by humans 2000 years ago still operate today.
Braise, as you will soon discover, is linked to so many different parts of the human food ecosystem in and around Milwaukee, which, in turn, are linked to the soil, the animals, the plants, and, through The Great Lakes, to the rest of the continent. If it were to go extinct, others may step in and try to pick up the functions, perhaps succeeding to some degree. Opportunistic species (like McDonald's or KFC) might try to fill the gap. In any case, the world would be a less vibrant, less healthy, and less resilient place than it was before.
Valentine's Day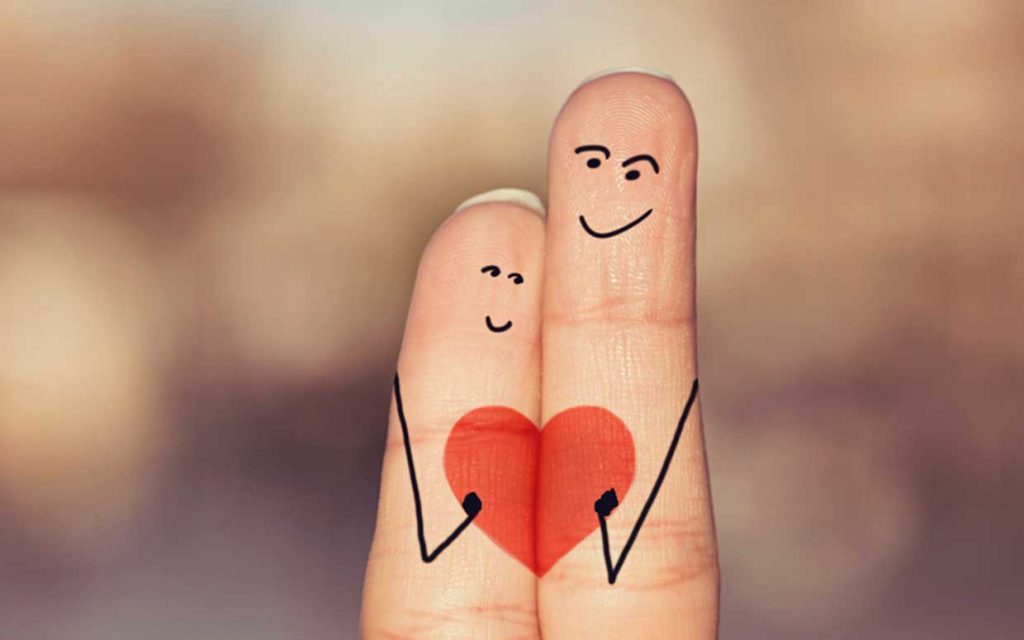 Al and I went to Braise with some of our human friends, Chet and Sally, for Valentine's Day. Even in the middle of February, with snow covering the ground, most of the ingredients were locally sourced, carefully preserved from summer's bounty.
For our first course, we had coffee roasted beets with black truffle quark, spiced pecans, and blueberry gastrique.
"Quark?" said Al.
"Gastrique?" said I.
We looked them up. Quark is a subatomic particle with a negative charge. Gastrique is a syrupy sauce, both sweet and tart.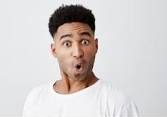 With their first taste, the humans' eyes popped open in surprise.
"Must have been that subatomic particle, " said Al.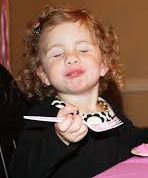 They also made some strange noises like "mmm, mmmmm, mmmmmmm," and similar variations. Chet said these were the first beets he had ever liked.
Course number 2 was a hazel nut-crusted whitefish from The Great Lakes cooked in olive oil and butter (delicate and flaky on the inside, nice crunchiness on the outside) with some root vegetable hash and watercress salad.
I ordered an additional large plate of the excellent watercress salad with citrus brown butter dressing. I had no idea what I had been missing and started planning how I could take some of that dressing back to the savanna.
The humans ordered two desserts to share, but I can't tell you much more. After Sally gave me a taste of the chocolate praline cake, the taste filled my entire world. It was all I could think about. When Al asked for a bite, it was already gone. Al pecked me and, of course, I deserved it.
But I've gotten carried away. I promised to inform you how Braise cultivates and connects the local food community.
Carrots, Ramps, and Cornish Gilliflowers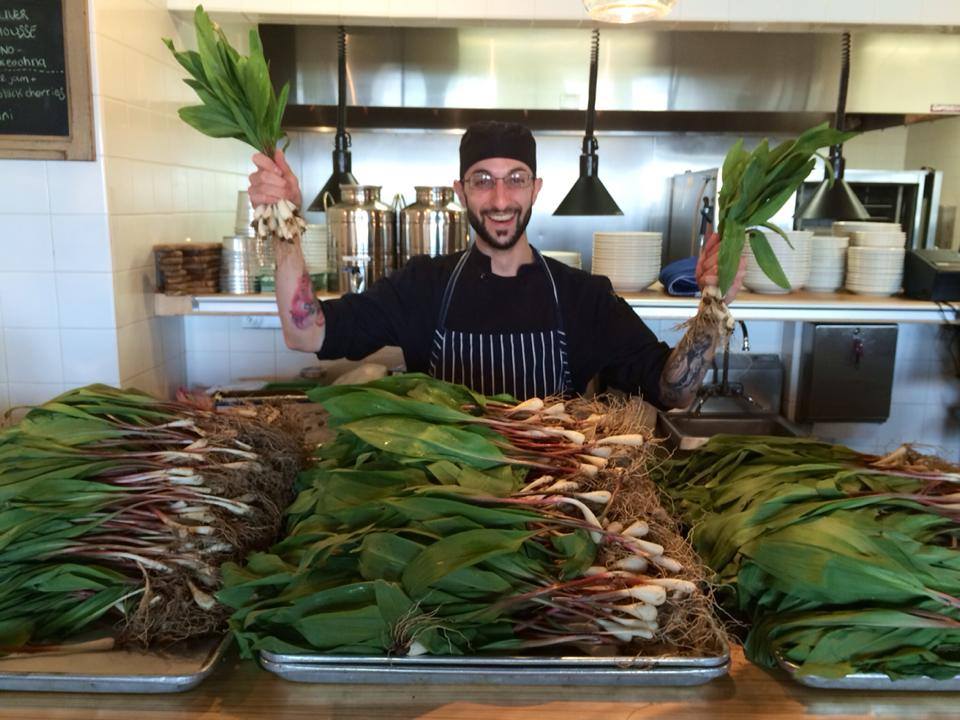 Dave Swanson, owner and executive chef of Braise, is on a mission: "reconnecting people with food." In 2004, real estate was too expensive to purchase a permanent restaurant space. Instead of simply waiting until prices fell, Swanson adapted to his environment by creating mutualistic relationships with other restaurants and farms.
As Braise had no home of their own, Swanson facilitated a coalition of restaurants where each one took a turn hosting dinner at their place. The five participating restaurants for a particular evening were featured for different courses: wine pairings, soup, salad, entree, and dessert. Each chef came out to talk about their feature – where it came from locally (even the wine was locally sourced), how it was prepared, etc. Braise now does the same for other chefs. Last week, Braise hosted Yia Vang of Union Hmong Kitchen for a special restaurant takeover in anticipation of the opening of his new restaurant Vinai MN!
Life is ever creating its way into the future by engaging in new cooperative relationships.

Fred Provenza
Swanson also hosted a traveling culinary school, teaching classes and serving dinners right in the farm fields or apple orchards.
The culinary school, now located in the Braise restaurant, seeks to teach people how to create delicious dishes using what is seasonally available – freshly-picked tomatoes and eggplant from the field, or the wild morels hidden in the woods.
Community supported agriculture first began sprouting up in 1984. People buy shares of a farm's harvest in advance, and receive a box full of fresh produce as it is harvested. The Braise RSA (restaurant supported agriculture) emerged in 2008 and was perhaps the first of its kind in the country. It unites restaurants with local farmers. In the RSA model, farmers are paid at least a portion of the season's costs upfront so they can plan their plantings and budget for tools and seeds.
Starting with eight farms, including Full Harvest, Rare Earth, MoonStar Acres, Afterglow, and Pinehold, and eight restaurants, including La Merenda, Cafe Manna, and La Reve, Dave Swanson met with each restaurant to determine how many pounds of potatoes, onions, garlic, spinach, carrots, etc. they needed for each week, coordinated these orders with the participating farms, and even schlepped sacks of potatoes and onions through the back doors of RSA customers.
Even though there are hundreds of farms surrounding the metro Milwaukee area, chefs and restaurateurs don't have the time or resources to access the local, seasonal produce. It's much easier for chefs to call a national food distributor for produce imported from California or elsewhere. The Braise model will make local, peak-of-season produce easily accessible.

Dave Swanson, Owner of Braise
What a surprise to find out that only about 1% of the human food in Wisconsin comes from Wisconsin! At the supermarket, Al and I saw apples from New Zealand, grapes from Africa, fish and apple juice from China, and blueberries from Chile.
"That's confounding!" said Al
But Braise and all their partners are changing that. Braise RSA now connects hundreds of farmers, artisan cheese and bread makers, foragers, and more to restaurants all over the Milwaukee area. Some provide berries and apples, others supply mushrooms and ramps, or garlic, eggs and beef. Within the apple category, there are over a hundred varieties just at Weston's Antique Apple Orchard, including Ashmeads' Kernel with a nut-like flavor and Cornish Gilliflower that smells like cloves. "
"Braise on the Go" offers a year-round home delivery service for individuals. People can order grains, fruits and vegetables, meats, cheeses, flowers, and fish, all from Wisconsin farmers, and have them delivered right to their door.
"I wonder if they also deliver to hippos," I thought aloud. My mind went to delicious places and I lost my train of thought.
"Hippo! . . . Hippo! . . .HIPPO!"
Al brought me out of my oh-so-pleasant daydream.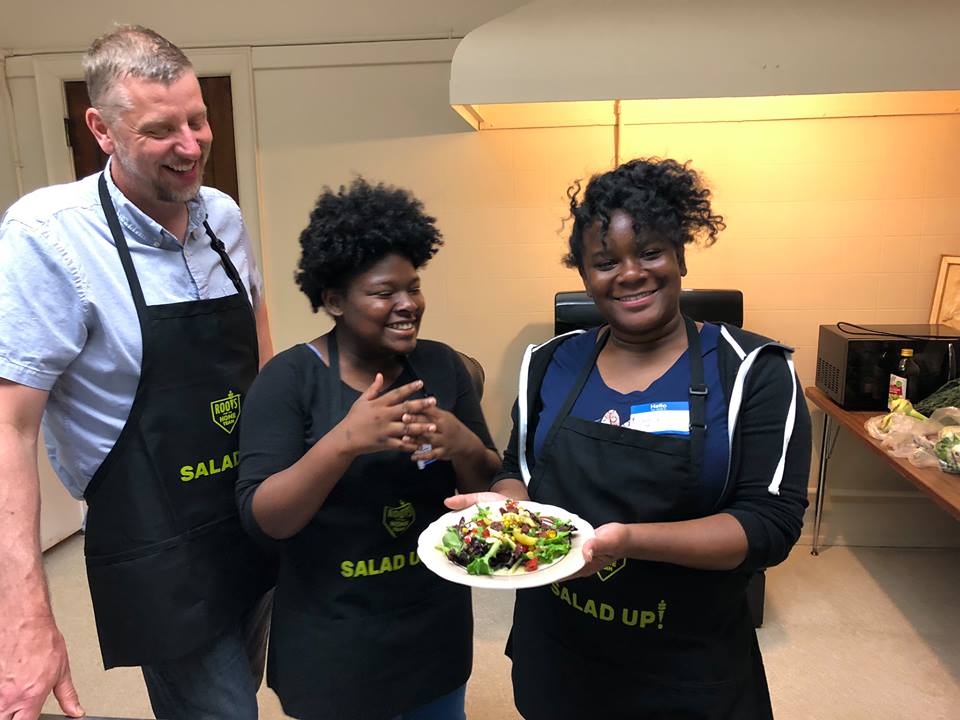 "I just realized something really big," said Al. "Dave Swanson is a connector. He connects people with food , restaurants with restaurants, farmers with restaurants, the soil with the food, people with farms, etc. Braise even has a bee hive on their roof which helps connect the bees with the flowers. And look at this! Braise Restaurant and Dave Swanson teach Roots students to craft beautiful and delicious salads for the Milwaukee Brewers food venue. Kayla and Lynette developed the Kaylett Southwest Salad, combining ingredients from from Wisconsin (where the Brewers live) and Arizona (where they do spring training).
The Tipping Point book, Hippo! Dave Swanson is a connector! Connectors are people with 'a special gift for bringing the world together.' That's why Braise is such a keystone player."
I nodded. "You're pretty smart, Al."
"Thanks!" said Al, very surprised. I never thought I would hear YOU say that!"
""You know," said Al, "I thought modern humans must be, at least partly, machines. They cultivate crops, often of only one species, in acre upon acre of perfect rows whereas Life moves toward greater complexity and diversity of species. Most humans plan and control and homogenize as if there is one right way. Life emerges in billions of ways. Think about all the incredible creatures we have discovered and how they all link together in the most amazing ways!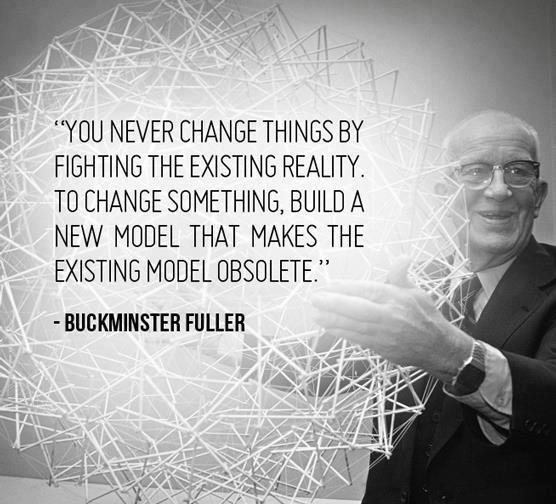 "But I see Braise and some of the other places we've visited (like the Tricklebee Cafe and Meuer Farm) following the lead of life. Their history is full of emerging, co-evolving, creating, connecting, diversifying, and self-organizing."
"Al, that is a discovery that brings great hope! Mother Nature has a few billion years of experience. She knows what's up. If the humans, with their great passion and determination, learn to trust and work with her ways, I believe we are in for the most exciting adventure we have ever seen!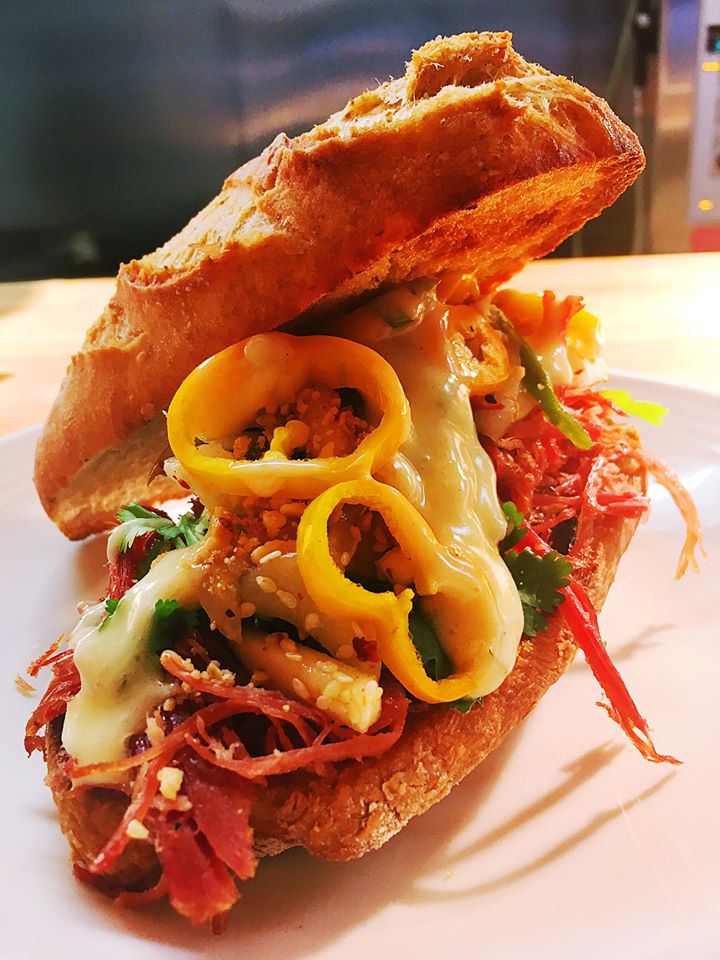 Dave Swanson will soon be spinning another strand in the Milwaukee human food chain – a European-style grocery and lunch-time cafe right next door to the restaurant.
What with subatomic particles and gastrique on the menu, people might get the wrong idea of Braise. It's not just a fancy place for Valentines' Day. On most Tuesdays, they have the Banh Mi Beer Me special for $14. That's a sandwich made with Banh mi bread and ever-changing, but always delicious insides – you can get vegetarian or meat – and a beer from Milwaukee Brewing Company.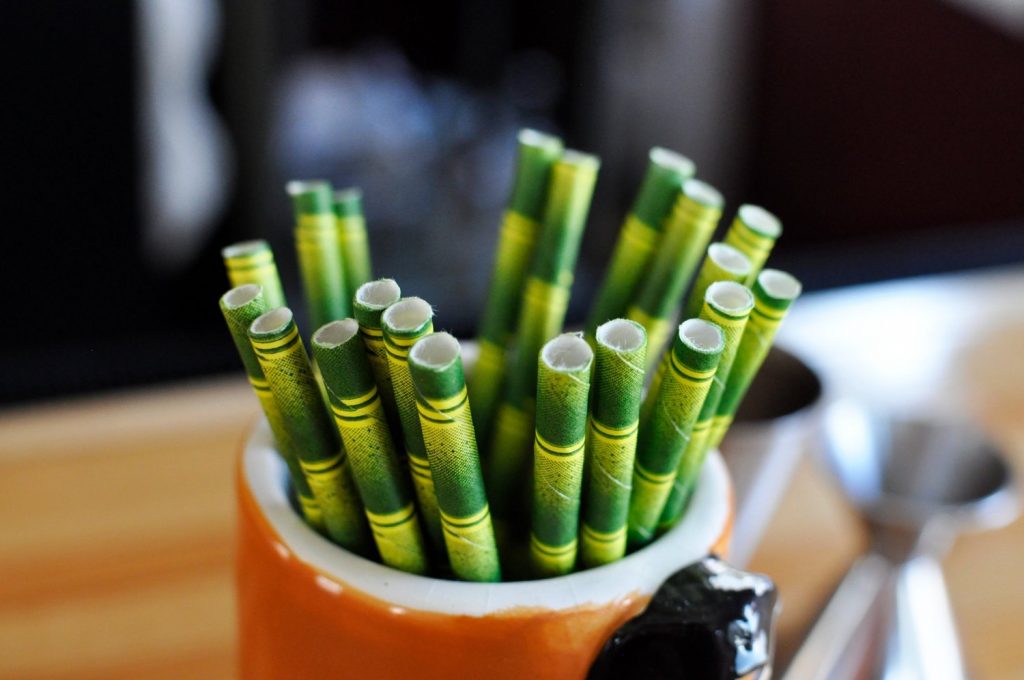 Last Tuesday, Al and I ate at the bar. The bartenders were very friendly and showed us the paper straws they use. Sometimes they even have straw straws!
The Wednesday special is Lucky Bun Dim Sum and Thursday is Pot Pie Oh My! The Odds and Ends happy hour is served Tuesday through Thursday from 5-10 at the Braise bar. Al and I plan to try the Friday fish boil (only during Lent). Visit the Braise website for all the delectable details.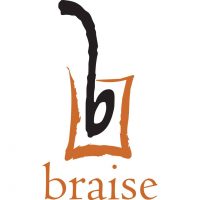 1101 S 2nd St, Milwaukee, WI 53204
http://www.braiselocalfood.com/
Visit the restaurant, join the RSA or Braise-on-the-Go, take a class, or have dinner on the farm.
And them them Hippo and Al sent you.