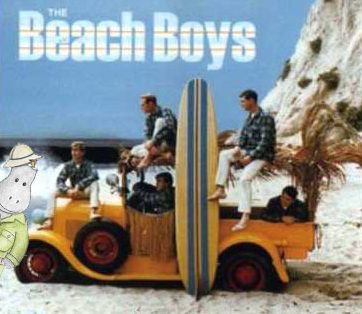 We got around to a couple farmers' markets on Saturday.
We saw our friend Elliott, the Tosa Farmers Market manager, soon after we entered the market. "Hippo and Al!" he said. I think he was happy to see us.
We bought some little tomatoes and lettuce mix from Nina and Family Gardens. If I had more hooves, we would have gotten some of the zinnias. I love flowers. As it was, I had Al holding the carrots under my hat.
We saw our friends from Meuer Farm and bought some eggs. I like the different colors and the speckles on some of them – the eggs, that is. Soon there will be more strawberries and they said the crab apples are looking good on the trees. Can't wait!
We met some humans from Hoard's Dairyman Farm Creamery stand – one was named Jessica and she has a 6-year-old son. She is going to read our story to him!
And we met a little boy who smiled really big when he saw us. He wasn't fooled by my trench coat and hat. In fact, he said out-loud, "Look! A hippo!" I looked around and luckily, no one was paying attention.
All loaded up with good food, we waved good-bye to Elliott. He said he would be looking for our article.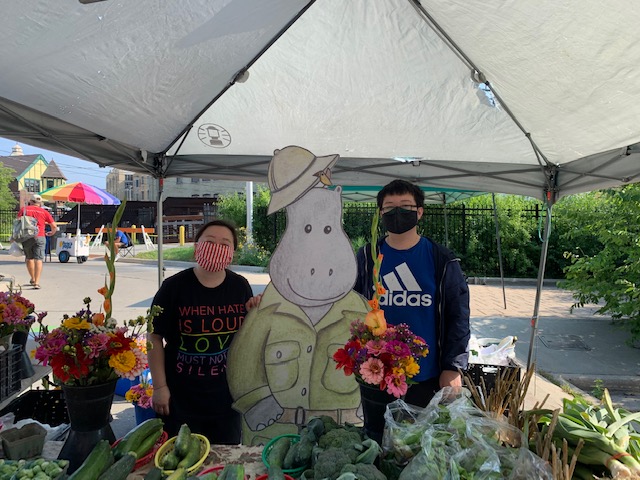 At Brookfield Farmers Market, we got a hug from our friend Michael from Seven Seeds Kitchen. He has the best smile and they sell this amazing Greek spread made from almonds, lemon, sweet potato, and olive oil.
We can't get enough sour cherries so we bought some from Door County Fruit Connection. Peaches are coming soon!
And we always visit Kong and his family's produce stand. This week we got lettuce, spinach and cucumbers.
We got another hug from Sonja of Peach Tree Organics, plus some collard greens. And then we spotted something new! Beautifully-colored cloth bags of all different sizes! Sonja and her daughter made them to hold different kinds of produce. For instance, there's a long, thinner bag for celery, a tomato bag, a cucumber bag, etc.
"Such a great idea!" Al piped in. "We've seen bags cloth bags for produce, but they are way too small to fit most things."
Al and I have been using old pillow cases, but Sonja's bags are much prettier and more functional.
There are so many good humans and an abundance of great foods at these and other local markets. Please come on out, meet the farmers and producers, and buy some goodies. You can help create a human food system that will make us all proud!