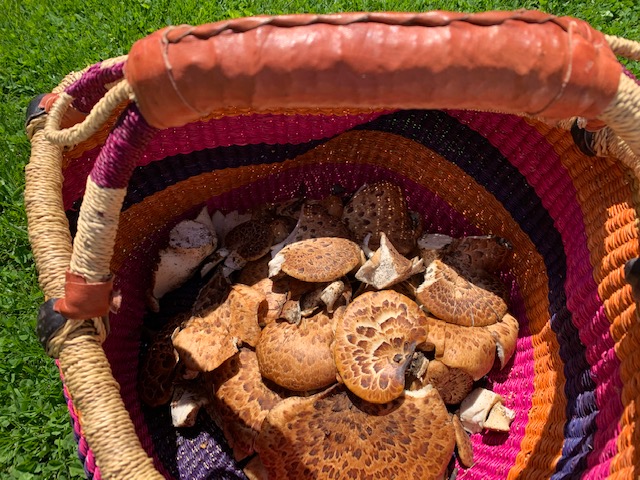 Written by Hippo (a hippopotamus) and Al (a bird)
Good things to eat are popping up all over the place! Al and I found and ate our first pheasant back mushroom (Polyporus squamosus) of the year two days ago and we are keeping an eye on some logs with baby pheasant backs that will be ready soon. These mushrooms are also known as dryad's saddle. A dryad is a wood fairy. Although humans will never see the fairies, you know they are near when you see their saddles hanging on the trees.
Al and I like these mushrooms sauteed in butter. Some humans say they are so tough that they spit it out after one bite, but we learned – both from reading and tasting – that the young ones are tender and delicious. You can tell by looking at the pores on the underside. The older they are, the deeper and more pronounced are the pores. "But we have used the tougher ones and stems to make delicious mushroom broth," said Al. One more good thing about pheasant backs is that they smell good – like watermelon rinds. Mmmmm.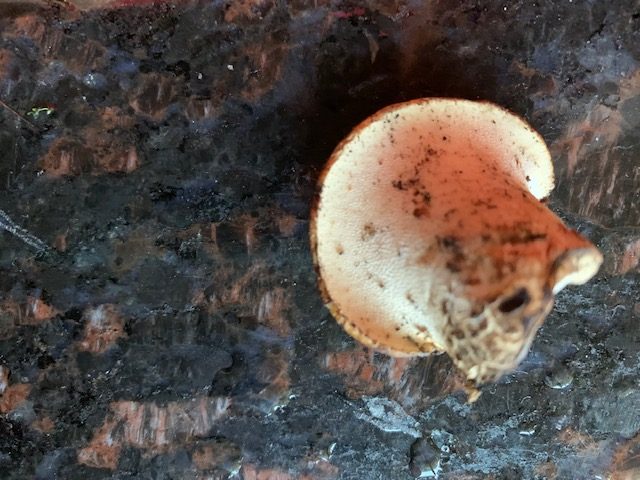 If you want to learn more, here are some Wisconsin organizations that might be helpful:
Wellspring Education Center and Organic Farm
Tippecanoe Herbs
Forager's Harvest
Moonwise Herbs
Midwest Wild Harvest Festival
Plant Based Services LLC
Wildwood Institute and Herbs
Wisconsin Mycological Society
We also have a book called Mushrooms of the Upper Midwest AND an experienced foraging friend – Sonja of Peach Tree Organics and Sowl Seeds.
Thanks for reading,