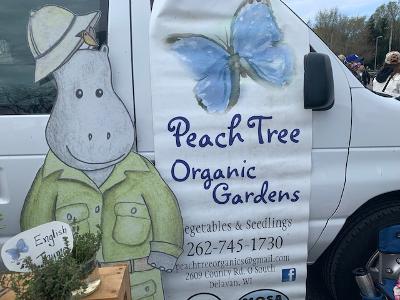 by Hippo (a hippopotamus) and Al (a bird)
Al and I are super popular at farmers' markets so we couldn't wait to step out and get some hugs from some of our human friends at the Brookfield Farmers' Market on Saturday morning.
We are in the midst of planting our garden, so we made a beeline for Sonja at Peach Tree Organics and Sowl Seeds to get some seedlings. She had a special running: Buy 10, get 1 free. We bought 10, including parsley, dill, marjoram, lemon thyme (one of our favorites), celery, bibb lettuces, rosemary, and basil.
Which one did we get for free?" asked Al.
"Aaaal!"
We stayed and chatted for awhile with Sonja, her daughter Chloe, and Laura who is helping out this year at the farm.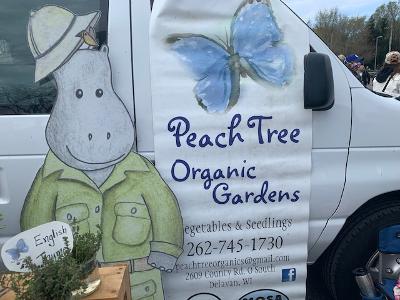 Next, we made our way over to Michael and Billy. They have changed their name from Skorthy to Helios, but it's still the same mouth-tempting spread with almonds, garlic, lemon, olive oil, and various herbs – they call it almond hummus so humans have a frame of reference. I asked what Helios means and Michael said Helios is the Greek sun god, shining on the Earth and making everything flourish and prosper. Homer, in The Odyssey described Helios as a god "who gives joy to mortals."
"It brings us joy, Hippo. Does that mean we are mortals?"
Of course, Al. I said.
We spotted some microgreens and headed that way. On the savanna, I was able to get all my nutrition on my nightly grazing walks. With so many different kinds of grass and other tender shoots to eat, I felt great! But I'm not in my native habitat here – not close. Microgreens have helped me stay healthy.
Microgreens have nutrients like Vitamin C, E, K, zinc, beta-carotene, and lutein which are good for eyes and skin, cancer prevention, and, from what we can tell, just about everything.
Microgreens led us to Zack, the human behind Jackrabbit Greens, a startup urban farm focusing on microgreens. They have a great story. We got some pea shoots and a spicy mustard mix which Zack cut to order from the many trays filled with greens. They are sold in packages, but Zack said we could return our containers next week to get refills – something that may not be possible if you buy from a store.
"That was a fine spring outing," Hippo," said Al.
"Yes," I said. "I'm already looking forward to doing it again next week."
Here's the link to the market again: Brookfield Farmers' Market.
Find out how we got started by reading The True Adventures of Hippo and Al.