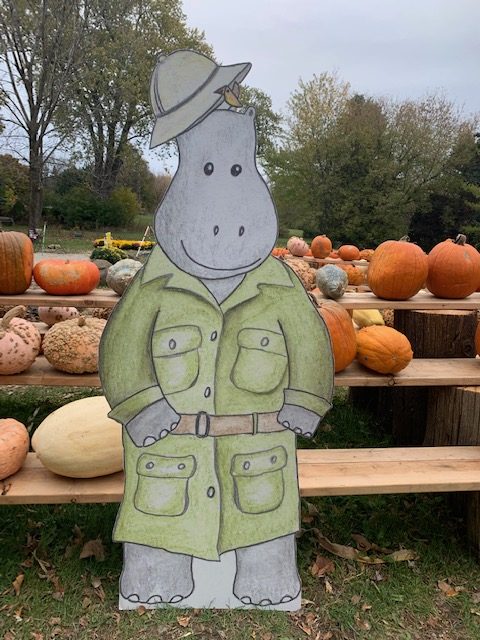 Written by Hippo (a hippopotamus) and Al (a bird)
We could have gotten our pumpkins from a store, but Alsum's roadside stand looked like much more fun. They have these paintings of pumpkins with holes which the humans stick their heads into for a picture.
"Heads?" said Al, "humans only have one head!"
"But I was referring to more than one human so there is more than one head," I said with irritation. Then I looked at Al and saw that he was joking. He always gets me.
We bought a few pumpkins, a couple to carve jack-o-lanterns, as we had seen the humans do. Aren't they scarey?
And one to make a pie – our first!
Alsum's is located at 12825 West North Avenue next to the Unitarian Universalist Church West. They are best known for their sweet corn which is so delish and fresh that Al and I visited the corn stand almost every day in the summer. We won't buy genetically modified corn – which Alsum's is not! They also have seasonal fruits (apples right now) and vegetables from their farm which is in Randolph, Wisconsin.
Unfortunately, the stand is closing on Halloween for the year, but the good news is that you can buy their frozen sweet corn at Metcalfe's Market in Wauwatosa, Sendik's Fine Foods on Capital Drive in Brookfield, Outpost Natural Foods (at the Capital Drive store and State Street store), Becher Street Meats in West Allis, and Bunzel Meats on West Burleigh Avenue. All of these establishments are locally owned and operated and make a point of including local foods in their offerings.
"And Alsum's will be back next year," said Al.
Now we need to get our costumes ready. We're thinking of being Peter Pan and Tinkerbell.
"Guess which one I am!" said Al.
"Oh, Al! Everyone knows I would be Tinkerbell."
You still have a few days to hurry over to Alsum's. They're having a big sale! In addition to pumpkins, they currently have winter squash, gourds, onions, zucchini, peppers, mums in all different colors, and lots of apples.
Alsum's
12825 W. North Avenue
920-326-5204
Have you read The True Adventures of Hippo and Al yet? It's an exciting tale filled with undercover disguises, menacing giants, and feats of great bravery . . . "by me," said Al – "the bravery part, that is." Read it here.