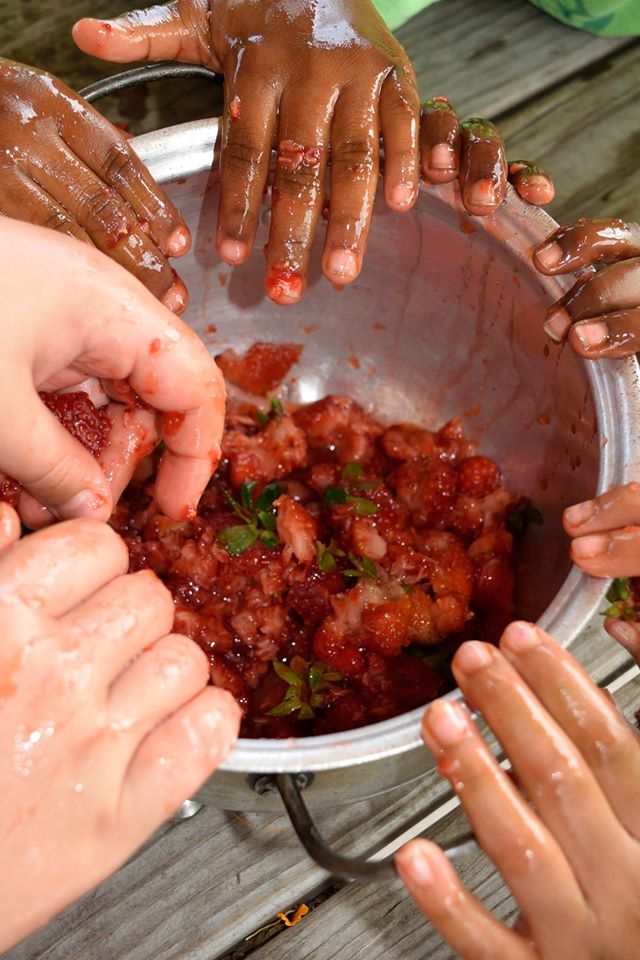 Written by Hippo (a hippopotamus) and Al (a bird)
Alice's Garden is a place of hope, reverence for life, and community. As soon as Al and I stepped through the gate, we smelled the good earth. It felt soft under my hooves. We saw people helping each other as they tended their gardens. Everywhere life was rising hopefully from the ground. Birds sang and the blue sky stretched over all. This was no ordinary human affair. Something exciting was a-hoof afoot within these two acres in the middle of the City of Milwaukee.
"We use gardening as the carrot (pun intended) to get people to come through the gate to impact their entire quality of life," says Venice Williams, Executive Director. From all over the city, people come through that gate and work alongside one another – people who may otherwise have never met. "As you're exchanging gardening ideas, you're exchanging recipes, stories about your children, and you're realizing how similar you are and not different." Venice Williams believes she has been put in Creation to help bring forth all that is good and whole in people and places. Every day she asks herself, "What is it my ancestors require of me today? They fought way too hard and too long for me not to continue to work."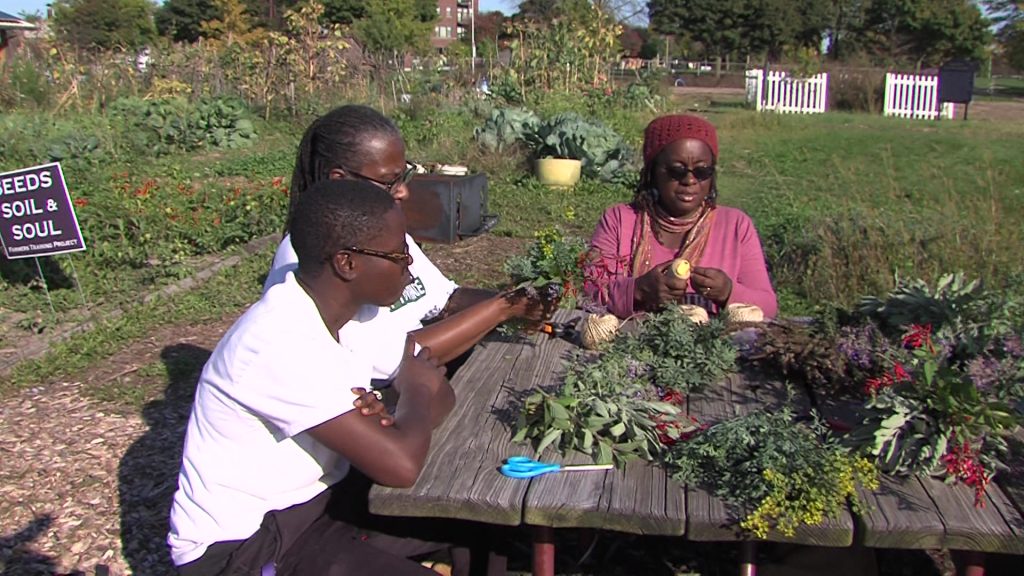 Al and I learned that, in 1842, with the help of pioneer Deacon Sam Brown, Caroline Quarles, a 16-year old freedom seeker, became the first to use the Wisconsin Underground Railroad. A railroad stop was located at the Samuel Brown Farm, the very same spot as Alice's Garden.
Alice's Garden was established nearly fifty years ago as a safe space for people to gather together to learn how to grow and cook their own healthy organic food. There are over 100 plots for gardeners to rent. People can also sign up for a share of herbs, both culinary and medicinal, but "what we grow most here are relationships," said Venice.
"That's true," said Al – "they really do."
I like nature and natural things. I like taking care of stuff and watching it grow. The garden is a cool place to be. It's a nice community and I get to play in the dirt and grow food and make it pretty, too.
~ A Gardener from Alice's Garden
The labyrinth is a special path within the larger garden surrounded by hyssop, lavender, sage, and other healing herbs and plants. "It is an invitation to walk with openness to the moving of the Spirit of Life (with whomever/whatever we place our ultimate trust). To walk the labyrinth is to step away from our everyday life for a moment, to slow down, to ponder, to listen, to receive guidance, healing, inspiration… " While Al and I were there, a young woman who had never stepped into the garden before, came through the gate to walk the well-worn footpath.
Venice also uses the herbs to soothe the body by transforming them into teas and healing creams, bath salts, and massage oils. I was able to get some relief for the painfully cracked skin on my hoof by using Dandelion, Ylang Ylang, and Oakmoss Soothing Skin Cream.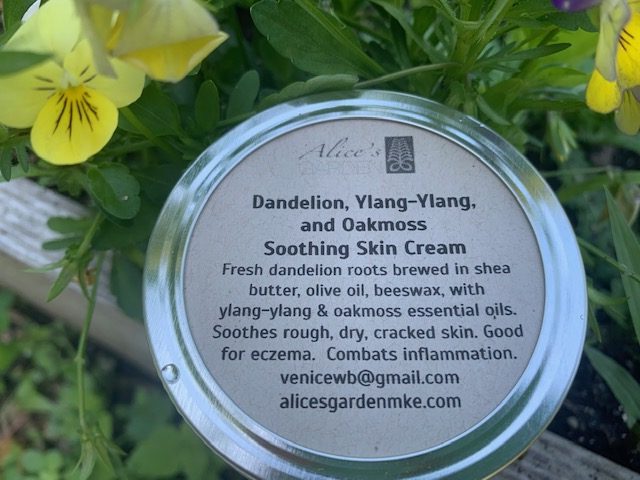 "It smells good," said Al, "and it doesn't overpower your natural hippo fragrance, which I quite like.
All of the teas, creams and other healing products, including what I call "hippo hoof healer," are available at the Fondy Farmers Market. You can also find a variety of products at Outpost Makers Market, Fischbergers Variety, Westown Farmers Market, Honeybee Sage Wellness and Apothecary, Shorewood Farmers Market, Bronzeville Collective MKE, Just Goods, and Center Street Wellness. And Tricklebee Cafe, that wonderful place we have written about in the past, is the only place in the world – at least, as far as we know – that offers the delicious herbal tea infusions created with the herbs from Alice's Garden.
"Looks like we have a lot more places to visit," said Al.
"And soon!" I agreed.
"Oh!!" said Al. With everything going on, I almost forgot to add that my friend Charlie, aka CharBee from Beevangelists has a hive in the garden!
"It's clear that Venice Williams is another one of those people talked about it in The Tipping Point book, Al! Venice is a connector! Connectors are people with 'a special gift for bringing the world together.'"
"Hippo, Alice's Garden gives me hope for the humans. Venice says that 'just by planting a seed, you believe in tomorrow.' I am starting to believe."
"More humans should plant seeds," I mused.
The magic is understanding in all of your work, you're never an island. The more people you pull in, the brighter and better and the larger impact a project has.

Venice Williams
Venice told us that, for many African Americans, the idea of growing food and working on the land is intertwined with the injustice of slavery and other exploitative land practices. Today, there are only 45,000 black farmers in the United States compared with almost one million in 1920. Learn more here: https://corpsnetwork.org/blogs/farming-as-a-political-act-the-connection-between-african-americans-and-land/ Venice Williams and Alice's Garden Urban Farm are part of a growing movement that is changing that story. Instead of being oppressive, working the land is becoming a source of liberation and independence. "If you grow your own food nothing is in control of you," said Jacquelen Kelly, Seeds, Soil & Soul trainee. "This is a money source and a food source."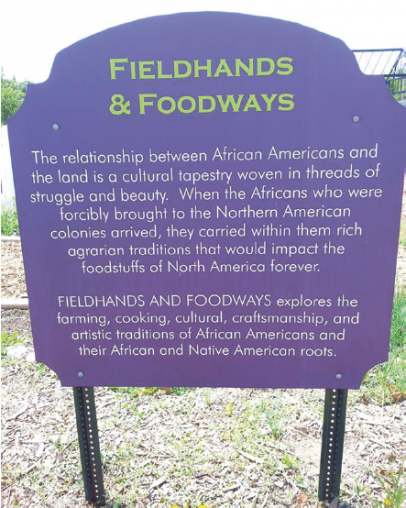 During the centuries of enslavement, African-Americans harvested cash crops like tobacco, cotton, and sugar. And they provided more than free or cheap labor. According to Judith Carney, author of Black Rice, the enslaved people who worked on rice plantations in South Carolina helped create one of the most profitable economies of the 18th century. European settlers, who did not know how to grow rice or millet, could not have achieved this on their own; they relied on the skills of enslaved persons, who brought knowledge of these grains from Africa. Other popular crops brought from Africa to the U.S. include coffee, watermelon, black-eyed peas, and okra.

https://corpsnetwork.org/blogs/farming-as-a-political-act-the-connection-between-african-americans-and-land/
"The humans from Africa brought great stores of ancestral knowledge to the Americas. Through the Fieldhands and Foodways program (see the purple sign to the right), people are working to reclaim those traditions.
"I know my great great granddaughter will be sitting in a better place and having a different conversation when it comes to water and air and land because we're doing the work we need to do and we're not going to stop . . . We've only just begun! We're only just getting started," Venice said. "I'm hoping to have 30 more years of serving the city of Milwaukee! And I'll let you do the math. I'll be close to 90 when I retire."
"Gardens are never finished," said Venice. So a story about a garden will also never be finished. We do hope that we have communicated enough of its spirit to cause you to visit this garden and do something to interact with it.
"We forgot to tell them about the Alice's Garden Farmers Market," said Al.
"So tell them," I said.
"It's on Tuesdays and Thursdays from 4:00 to 8:00 in July and August and from 3:00 to 7:00 in September and October. You should go!"

2136 N 21st St, Milwaukee, WI 53205
Phone: (414) 687-0122
venicewb@gmail.com
https://www.alicesgardenmke.com/